Hello and welcome. My name is Owain and I am so glad that you are here.
I will first explain how I got into genealogy research, or as you may call it family history.
My first experiences of family history was when I was a young boy. My father would recite to me
stories regarding our ancestors. He would tell me over and over and over again, and yet I was never tired of hearing them.
Some of these stories would go back as far as the mid 1700s. He would tell me all sorts of anecdotes and tales from different branches of my family tree. Some from his father's side, but mostly from his mother's.
Years would go by and my father would still continue telling me the same stories all over. We had discussed writing them down but nothing ever came of it.
Finally our family history book was being written!
Eventually this came a reality when pen was put to paper and the stories flowed. I wanted to write a book filled with this family history so that it would be preserved forever.
While transcribing my father's notes I thought to myself that it would also be a good idea to include family charts. From these charts people could see the relationship between my ancestors and my father and I.
I also included photos so that people could put a face to the name and stories. Photos of family heirlooms were added showing the many family treasures that had been handed down the generations.
And so my research project grew into something so much more than I had first envisioned. It had grown into something that would be cherished for generations to follow.
The Genealogy Guide Awards and Accomplishments!
Since The Genealogy Guide was created in June 2016 I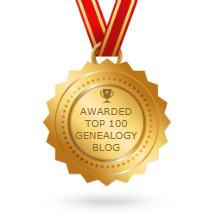 have continually added informative guides and helpful tips to help YOU trace your family history.
I have also provided many thorough reviews that explore what genealogy products and services that you should use.
I am therefore pleased to announce that my efforts have been recognized as I am now featured in the Top 100 Genealogy Blogs.
Episode 216 – Sunday, November 26, 2017
A brief mention of The Genealogy Guide appeared on this episode in relation to how children can get involved in family history. Why not check out the Genealogy For Kids post to see what all the fuss was about!
---
So Why Did I Create This Site?
After self-publishing my family history and holding in my hands a book containing a wealth of so much personal history I wanted to give back to the genealogy world. So I created this website to help guide you to build your own family tree.
Over time this site will grow to include guides, reviews and so much more. There is just so much that I can cover with this site.
While researching your ancestry you can check out old documents, interview relatives, visit where your ancestors lived, or even do a DNA test. The possibilities of finding out about your family tree is practically limitless.
This site is not only for the beginner to the genealogy world, but also to the seasoned family historian. So whether you are starting on your journey or have been doing this for a while you will find something of use here.
---
Get Involved and Help Build The Genealogy Guide Site!
Something missing on this site? Is there a topic, tool, resource, date or even an event not featured that you would like to see? No problem, just comment below or contact me.
I am always interested in hearing your tips or suggestions as I want to build a genealogy site that will help you. Or if there is an article that you find useful then please like and share it with your family and friends.
If you have your own genealogy blog then please feel free to link to The Genealogy Guide.
Write For Me!
I also welcome guest bloggers to contribute articles to the site. It doesn't matter what it is about as long as you think it will help people trace their family history.
What better way to give back to the genealogy world, (like I am doing), than by helping your fellow family historians. So get involved today!
The Genealogy Guide is your guide to help you on your family history journey!
---
Testimonies
My goal with this site as I have said is to help people trace their family history. I have been fortunate to have received many compliments, either through comments on posts or by private messages. I will add some of these compliments below:
Craig:
As a regular visitor to The Genealogy Guide I can safely say this is the best way to trace your ancestors, thanks to the wealth of information that Owain provides. I love how this website covers all angles and highlights the optimum methods in building your family tree. Owain continually adds regular updates and I would recommend this website to anyone interested in genealogy.

Craig, Founder of UK TV Services Abroad
Gina:
There is such an abundance of valuable information packed into The Genealogy Guide. Owain really knows how to research your ancestry and discover your family history.

If you ever thought about building your family tree, this is definitely the place to start and finish. Owain has all the details right here at your fingertips.

There is also a whole lot of cool history, helpful tips, resources, and tools. Thanks Owain, I just love this site!

Gina, Owner of Acrylic Painting Ideas
Pete:
I've been checking out your site and really am impressed with so much information. You obviously are very well versed on all aspects of genealogy. Personally I don't know beyond my mom and dad, very much about my family history at all.

I'm going to keep checking this out and probably start my own search effort here and find out after about 60 years where my roots are.

Thank you for building this site and informing us about searching out our roots and helping so many connect with the unknown past and really helping us understand ourselves through our ancestors.
Furkan:
I have been visiting Owain's site for a long time and it is safe to say that the information here is just amazing for tracing ancestry. And I also love Special Day posts like Saint Valentine. That was a great story by the way.

And if anyone is interested in tracing their ancestry or just want to know more about them, then this site should be your guide.

Furkan, Owner of Find Best Boxing Gloves
Kevin:
Owain has worked hard to present helpful information in a clear, concise and actionable manner and he's doing a terrific job. He fully considers all aspects of products, activities and questions related to genealogy and crafts thoughtful, thorough and extremely helpful reviews, guides and suggestions.

The quality of his work has captured my interest and caused me to consider my own family history and many other things besides, such as what to do with old family photos and what products may be the best fit for me to learn more about my ancestry. It's really quite fascinating.

If you're interested at all in genealogy, I think you've come to the right place. And even if you aren't, take a look around, and you may find – as I did – that it is an intriguing subject that will have you deeply appreciating Owain's work.

Kevin Bulmer, Speaker & Host of The No Schedule Man Podcast
www.KevinBulmer.com
---
Funding For This Site and My Genealogy Research
You will find on this site many guides and tips that will help you on your family history journey. Besides all of the practical advice there are also guides on products and services that I review.
As an affiliate to these products and services I will receive a small commission. This helps pay towards this site's hosting. Also, any money I receive I use to continue my own family history research.
I would like to thank Wealthy Affiliate for making this website a reality. Firstly without the help of WA I would not have created this site. Their help and guidance has proved invaluable as they have helped me to set up a site that can help so many people trace their family history.
And secondly, I must thank the community at WA for supporting me in my goals. They have been a great help to me in guiding me in the direction that this site has taken.
If you also want to create your own site, maybe helping others like me, then try out WA and see what all the fuss is about. They offer a free trial so you can test it out to see I feel you like it and if it's for you.
---
And Finally!
I would love to hear from you so please tell me your reasons for conducting your own family research. You can use the comment box below.
If you have any queries or suggestions for this site then please feel free to tell me below. Otherwise you can use the contact form.
Thank you,
Owain
Founder of The Genealogy Guide